Haemoglobin Disorders: Laboratory Diagnosis and Clinical Management
ESH-Enerca training course in association with Thalassaemia International Federation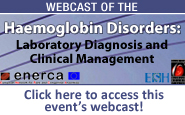 Sickle cell disease, thalassaemia and other haemoglobin disorders are among the most frequent inherited pathologies worldwide, but until relatively recently they were considered to be rare red cell disorders in European countries. Population changes in Europe during the 20th century have led to such an increase in their prevalence, that they are now considered to be public health problems in some countries. At the same time, significant progress has been made in the clinical and laboratory diagnosis, and in the clinical management of these disorders. This ENERCA course addresses all the clinical, biological and epidemiological aspects of these disorders.
Course Program
Copyright © 2002 - 2020 Enerca
Co-funded by the Health Programme of the European Union.